Location
Access to MIC Head Quarters(HQ)
For other map services, click below.
[Google Map] / [Google Earth] / [Yahoo! Map]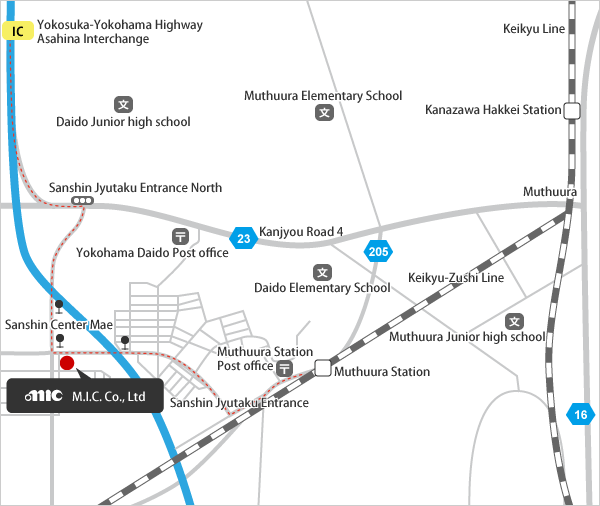 Environmentally-related Products / Medical Devices
M.I.C. Co., Ltd.(Medical Intelligence Corporation)
2-2-15 Higashiasahina, Kanazawa-Ward, Yokohama-City, Kanagawa 236-0033, Japan
TEL:045-784-3888 FAX:045-784-3889 URL:www.m-i-c.jp E-mail:info@m-i-c.jp
By Train & Bus
From Kanazawa Hakkei Station on Keikyu Line
Leave the train at KanazawaHakkei Station on Keikyu Line, and get on Keikyu Bus heading for "Sanshin Center". Before reaching "Sanshin Centere", drop off at "Sanshin Center Mae" and then walk for a minute to our office. (Refer to the above map)
From Muthuura Station on Keikyu Zushi Line
Leave the train at Muthuura Station on Keikyu Zushi Line, and g then walk for 12 minutes to our office. (Refer to the above map)
By Car
Exit at Asahina Interchange on Yokoyama-Yokosuka Highway. After the exit, driving on Kanjyou Road4 for the direction of Route 16 . At the first traffic right, turn right and drive upslope till you can see the signage of CREATE Drug Store, and then here you are. (Refer to the above map).
Access to MIC Fukuura Branch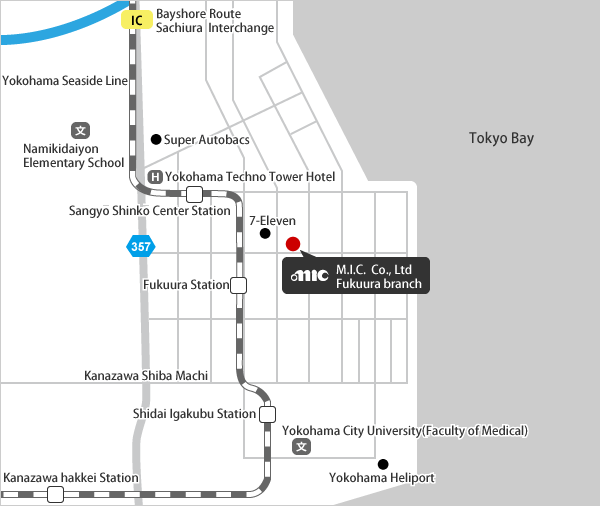 < Fukuura branch > 1-8-33,Fukuura,kanazawa-Ward, Yokohama-City, Kanagawa, Japan 236-0004
TEL:045-353-8931 FAX:045-353-8932
By Train
Get off Seaside line "Fukuura" station, will toward the Industrial Promotion Center district, please turn right at the first intersection, and if we were one block straight ahead, you will see a sign of Fukuura branch.
By Car
Go straight to "357 Route" get off the Metropolitan Expressway Wangan line in "Sachiura Inter" and go straight and turn right at the intersection of "Fukuura 2-chome", so you see a sign that "Yokohama Machinery Association", turn right immediately turn left after Te, please use the on-site parking.